You want to get the most money out of your largest investment… There's no question about that.
And when you think about it, "pricing high and seeing what happens" sounds like it makes sense, right?
Unfortunately, that actually works against you.

1. Most activity happens in the first seven days
When someone decides they're going to buy a house, they obsessively scan online for new listings.
… and when I say obsessively, I'm not exaggerating.
I've had buyers tell me that they can't even focus on work because they can't stop looking at houses.
With that in mind, serious buyers know exactly what's on the market and are ready to hop on a brand new property that comes on the market.
So by "waiting to see what happens", you're basically passing up allllll of the serious buyers who need to buy right now and you're catering directly to the "I'll buy if I can get a good deal" buyers.
By making sure your property is priced right, you'll get more showings in the first seven days which will likely lead to multiple offers and a bidding war… and at the end of the day, THAT is what will get you more money.
After all, that is what you want, isn't it?
2. There are two markets going on right now
If you look at the actual statistics, we're in a balanced market (with the exception of below maybe $250k because those fly off the market within hours).
Here's what's interesting about balanced markets…
There's basically two markets going on at the same time.
A property that's priced right will get tonssss of action, showings, attention and offers.
A property that's overpriced is going to sit, get stale and be looked over by the perfect buyers.
3. You'll get less showings by overpricing
How many buyers do you think have gone to their agent and been like, "show me houses that are overpriced?"
Probably not many, right?
Every buyer wants a deal… They want to feel like they're winning.
Here's where we can tap into buyer psychology to make it work FOR you, instead of against you.
A real estate negotiation is a competition.
When you overprice, the buyer is focused on getting the best deal possible so they're going to lowball and try to get the lowest price possible.
When you price right, the buyer is no longer competing against you… They're competing against other buyers.
When those buyers are competing (instead of competing with you), the buyer feels like they're winning AND you get the price that you want.
Can you say "win/win"?
Let's take that even a step further…
A well priced listing will attract the most traffic and increase chances of getting and offer (or multiple)!
It is infinitely easier for a buyer to fall in love with a home once they're in the house rather falling in love with the pictures and the BEST way to get them in is to price right.
The more buyers you can get in the door, the better your chances of getting offers… The more overpriced your home is, the less interest you will have, as shown below.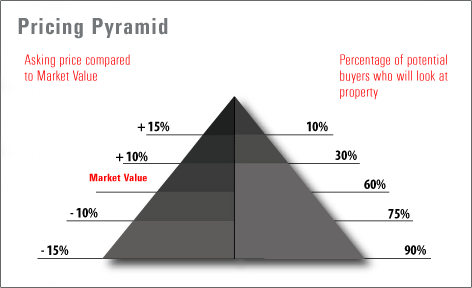 4. Your price will either sell your house or your neighbor's house
When new listings come on the market in the neighborhood, agents will compare your home to those homes (even if they're not identically similar).
… and the LAST thing you want is for an agent to have a conversation with their buyer that uses your house to show the buyer how great of a deal ANOTHER house is.
Here's what it comes down to…
There was a study done by the National Association of Realtors (NAR) that says if you go 10 days with no showings or 10 showings with no offers, your home is overpriced.
Oh, and I almost forgot…
There's no such thing as "giving your house away".
I don't know where this cliche phrase came from, but think about it this way…
Even IF you underpriced your home (which you're not going to do, just saying for example's sake), you're going to get multiple offers which would drive the price up.
The market is going to give you what your house is worth, so price it right from the beginning and not only will you sell faster but you'll very likely sell for more money too.
Homes are averaging 96% of their list price right now, so there's no need to list ridiculously high.
In fact, because my listings are always priced well, my average list price to sales price ratio is 99%.
Want to learn more about getting your home sold quickly, for top dollar and totally stress free?
I've got a wholeeee free guide to selling your home right here: