We hear it all the time – "first impressions are everything".
That applies to people, brands and yes… houses, too!
95% of buyers start their home searches online, so that means 95% of your showings are happening before a buyer ever steps foot in your home.
When they're looking at properties online, they're looking for a reason NOT to go see your home.
I know that sounds counterintuitive, but think about it for a second…
No buyer in the world wants to go look at every single house on the market… That's exhausting.
So as they're scrolling through, the only way they can narrow down is by eliminating the homes that don't fit their criteria.
Believe it or not, even if your home does meet their criteria, they will narrow down even further based on how the home shows.
What's the first thing a buyer sees online? The front of your house.
Peak their curiosity and get them interested enough to keep looking at more pictures online or come inside.
"Motivated Seller"
Do not.
I repeat DO NOT let your agent put "motivated seller" on your listing.
It may get you more showings, but it will also drive lower priced offers.
Buyers are always looking for a deal and when you give them an opportunity to find one, you'll be sorely disappointed to find you are only receiving lowball offers.
Instead, price your home right from the beginning and make sure the verbiage on your listing is enticing and you will drive all the traffic you could ever need.
Professional Photography
I cannot stress enough how important this is.
Professional photography uses wide angle lenses to make your space look bigger and the lighting and editing that they use makes your home like brighter and more open. After all, buyers are always looking for "open floor plans with lots of natural light"…
Give them what they want and you win too.
Look at the pictures below… Which one would you pay more for?





Video
Having your agent do a walkthrough of your home on video gives a buyer the ability to visualize your home as if they are actually in the house.
It gives a different perspective than pictures where a buyer can feel the "flow" of the home understand how the different rooms work together and have a visual of how to furnish the home without having to make the drive out to look at it.
They will know they aren't wasting their time when they actually do make it out to your house.
Videos will increase your traffic both online and in person.
Here's another tip…
Even if your agent does an "amateur video", so long as they have professional photos on the actual listing, it actually encourages engagement MORE than if it's a professional video because buyers feel like they're working with an actual person… But that only works if you have the professional photos.
Lifestyle Map
This is one of my favorite ways to advertise a property!
When I list a property, I create a map of all of the local points of interest and upload it to the MLS so that buyers can get an idea of what it feels like to live in the area.
They'll understand where the nearest grocery stores are, shopping, highways, parks, schools, recreation and more.
That way, buyers get a feel for what it's like to live in the area.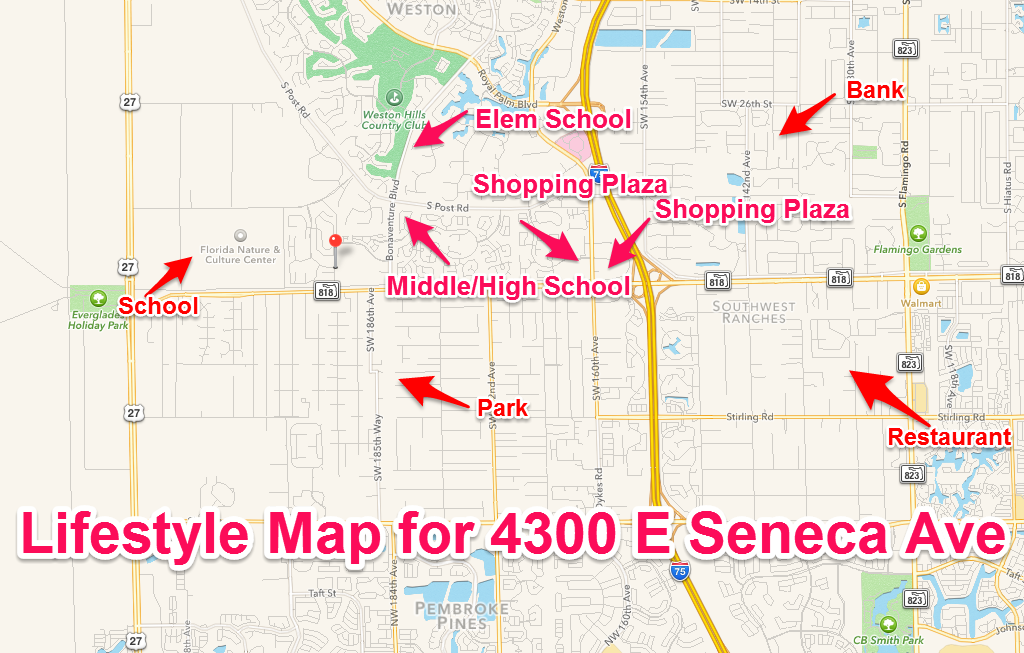 Paint Your Front Door + Touch Up The Inside
I would recommend painting the whole house if it's needed, but at the VERY least, painting the front door and garage can make a world of difference.
It's the first thing buyers see when they enter your home.
When you have a fresh coat of paint on the doors and nice, shiny door handles, it shows pride of ownership.
Buyers like to buy from owners who love and take care of their homes because they expect less surprises.
Along with painting the front door, touch up any paint inside that's chipped or dirty.
It's the difference between a buyer walking in and going, "this house has a lot of work to do" and "this house is immaculate and move-in ready."
Guess which one gets a higher price?
Pressure Wash Everything!
I might even start a new hashtag like that… #pressurewasheverything.
Just kidding.
If painting the front door makes a world of difference, pressure washing makes your house a new house.
This calls for pictures, not words since no words will be able to explain the difference.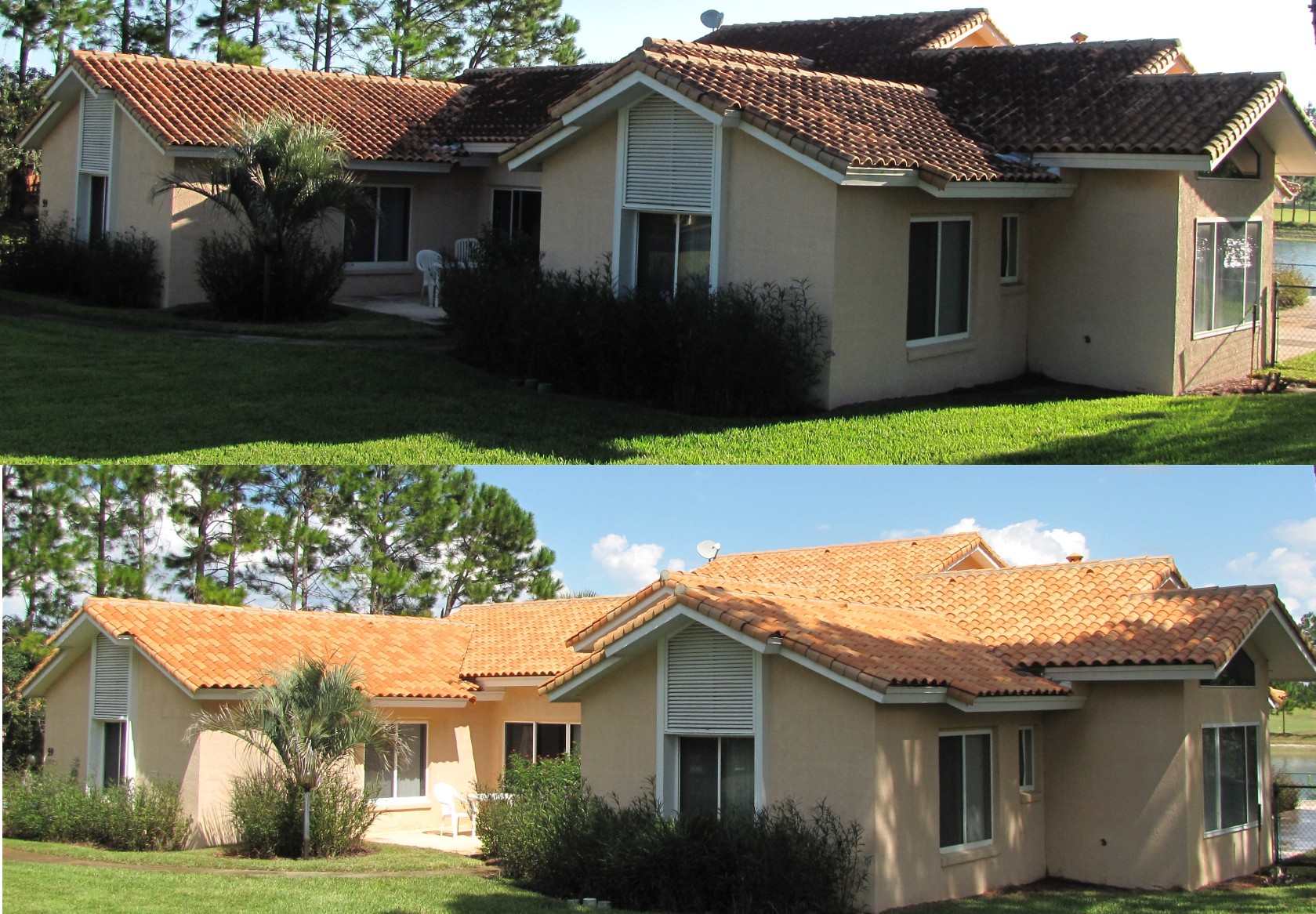 Do you see the difference?
Nothing else has changed… It's just been pressure washed.
So, pressure wash everything. Kapeesh?
Change The Numbers & Mailbox
It sounds so simple, but it really makes a big difference.
When buyers are driving around neighborhoods looking for a specific house, they're looking at the mailbox for the numbers… If your mailbox looks old and grungy, bam!
That's a bad first impression.
Same goes if you're missing numbers on the front of your house.
If it's supposed to say 1234 and only shows 12 4, that doesn't look good and it's a super easy fix.
While you're at it, change the door knobs and door knocker so they're shiny and new and make sure your doorbell is in working order.
These are all super easy fixes, but I cannot tell you how many times buyers make comments about small things like that.
Deep Clean + Change The Air Filters
When you've been living in a property for awhile, it's hard to see your own dirt.
… but a buyer definitely will.
You'll want to make sure you get the property professionally cleaned so that buyers walk in and go "wow, this is immaculate!"
That means getting everything clean, down to the windows, top of the doors and ceiling fans and changing the AC filter.
I listed a property once where there was a layer of dust on each slat of the A/C closet because the filter hadn't been changed in so long… so I made sure they changed it.
Not only will changing the A/C filter make sure that you don't have that layer of dust anymore, but the air circulating through the house will be cleaner too.
Declutter
The stuff that you value, the buyers will see as "crap".
I know that's tough, but hey, if you want the most money for your home, we've got to be honest with each other.
With that in mind, take EVERYTHING off of the counters (including small appliances) in the kitchen, bathrooms, nightstands and dressers.
… and yes, especially for the pictures.
Your counter tops should look like a hotel… Nothing but the essentials.
You want the buyer to see the house, not all of the extra stuff.
One of the BIGGEST requests that I hear from buyers is that they want a house that has storage space.
With that in mind, remove the knick knacks from the entertainment center and bookshelves and start packing away some of the stuff in your closets.
If your closets are packed to the brim, the buyer's will wonder if the house has enough space for their stuff.
There should be at least 50% of empty space in closets, shelves and bookshelves.
You're planning to move anyways, so start boxing stuff up. It'll make packing wayyyy easier later on.
Here are a few quick examples: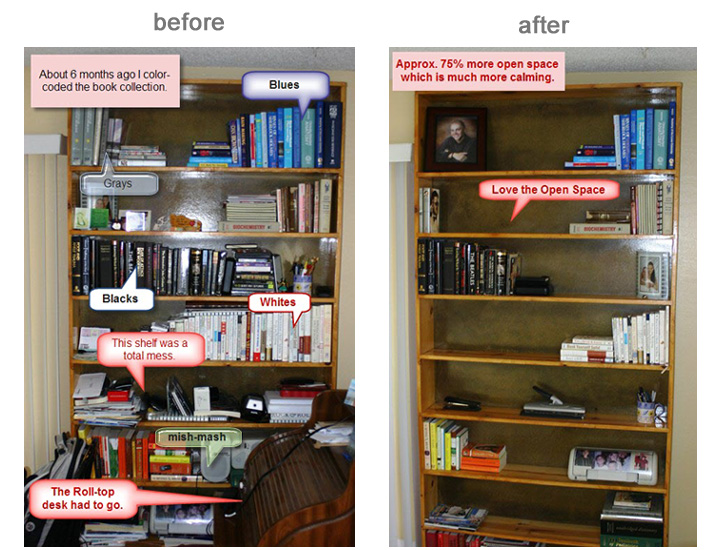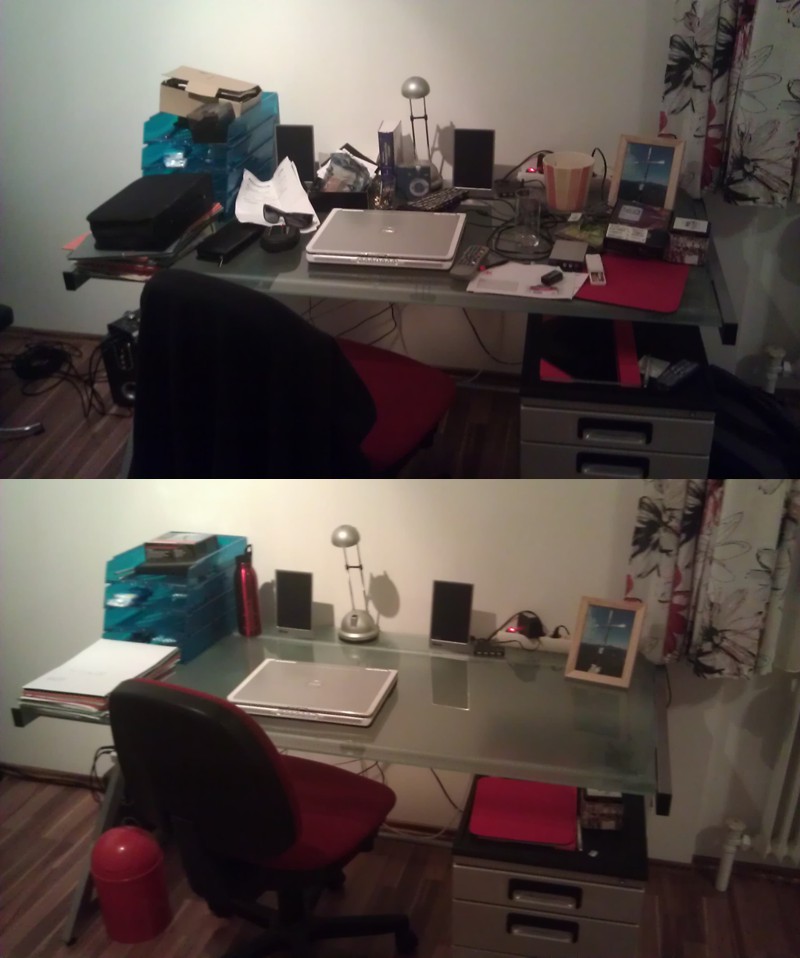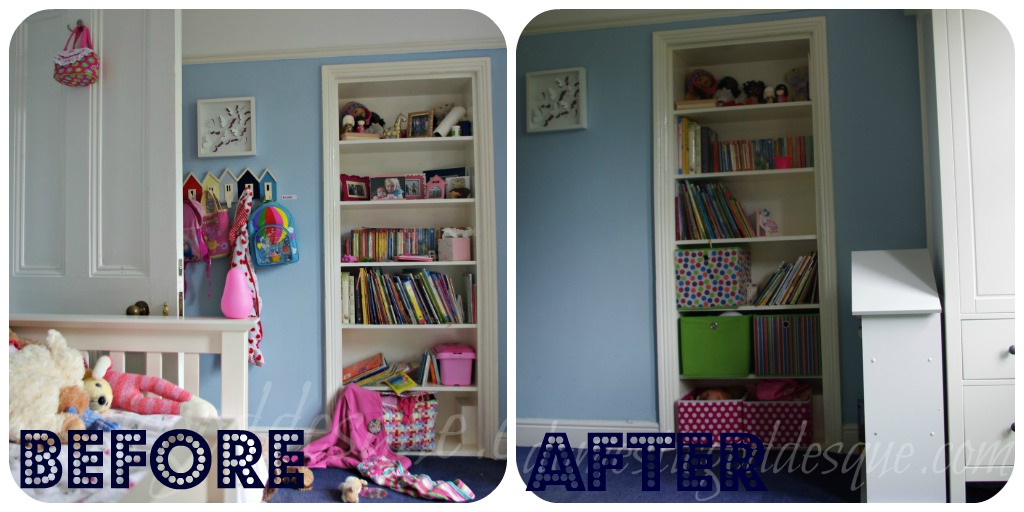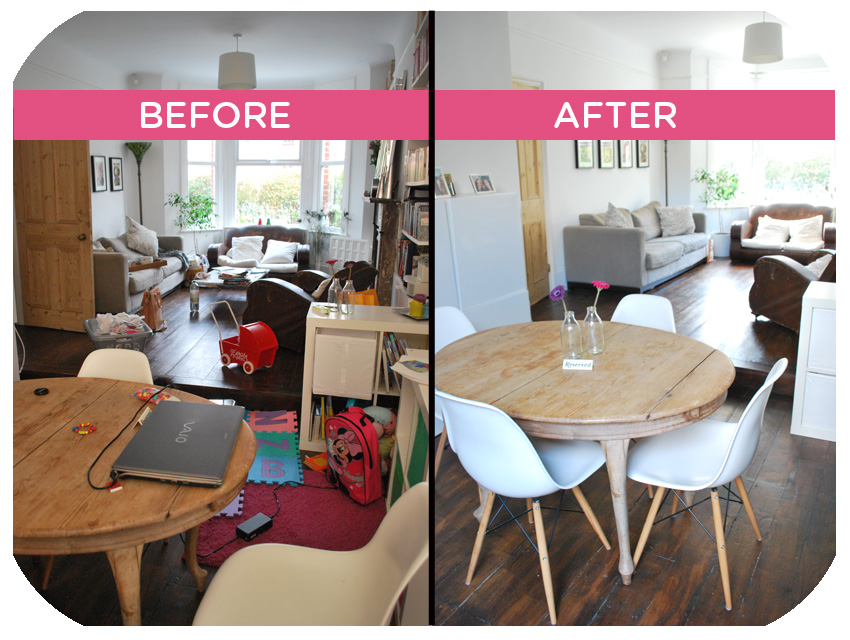 Take Care of Your Landscaping.
This goes back to curb appeal.
It doesn't have to be anything expensive, just make a plan and add some color to your front yard.
Look at this picture… It's simply painting the front door, trimming those trees and adding a little color.
That doesn't have to cost a lot of money or take a lot of time, but look how much of a difference that makes.
Last, but CERTAINLY not least, make sure that you are taking care of your grass.
It doesn't have to be perfect, but take pride in your lawn.
It makes a big difference in the presence of your home when buyers are looking at it.

By touching up these small things, your home will sell faster and for money than throwing the house on the market and "hoping" to see what happens.
If you want to learn more about the process of selling your home, I've got a wholeeeee free guide for you right here: